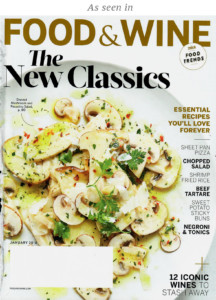 Total 20 min; Serves 8
Brooks Reitz's salad has only a few components, so find the finest, freshest, most expertly sourced ingredients.
1/3 cup extra virgin olive oil, plus more for drizzling
1/4 cup fresh lemon juice
2 Tbsp. chopped parsley
1/4 tsp. crushed red pepper
Kosher salt and pepper
1 lb. fresh white button mushrooms, very thinly sliced (preferably on a mandoline)
2 oz. pecorino cheese, shaved
First, in a small bowl, whisk the olive oil with lemon juice, parsley and red pepper. Season generously with salt and pepper.
Then, spread half of the mushrooms on a large platter. Drizzle with half of the dressing and sprinkle with half of the cheese. Repeat with remaining mushrooms, dressing and cheese. Drizzle with olive oil and serve.
Wine pairing: Savory Nebbiolo