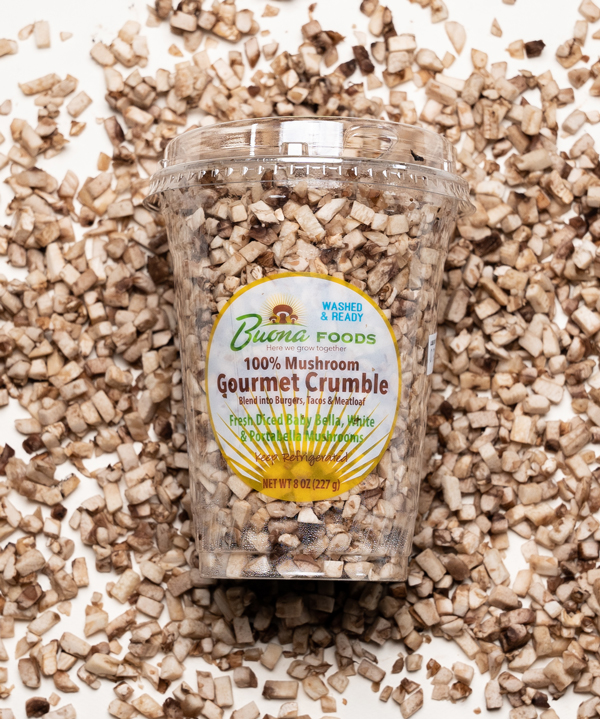 Buona Foods' 100% Mushroom Gourmet Crumble is the next great thing in mushrooms!
Our blend of baby bella, white, and portabella mushrooms is versatile and convenient:
• Blend into meatloaf, burgers, or tacos
• Add it to eggs, soups, or pasta
• Top pizzas and flatbreads
• Elevate chicken, steaks, and chops
Like all of our mushroom products, the Gourmet Crumble is made with mushrooms grown and hand-selected in the Mushroom Capital of the World.
Retailers can order display-ready cases of six 8 oz. cups. Buona Foods' Mushroom Gourmet Crumble is also available in foodservice packages or custom-sized retail packages.
Our cup's innovative top seal preserves freshness and maximizes shelf life, while the shaker lid makes dispensing the Crumble easy. The Gourmet Crumble is washed and ready to use right out of the cup. There's no cutting and less cleaning!
Topping the trending lists in 2020 and 2021, mushrooms are seeing double digit sales growth at almost twice the rate of other produce items. They provide ease, flavor, and a natural accompaniment to either comfort food or haute cuisine. The health benefits are also impressive – mushrooms provide iron, magnesium, potassium, B vitamins, and antioxidants like selenium.